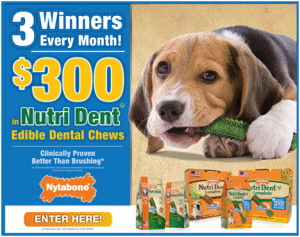 Enter for a chance to win $300 worth of Nutri Dent Edible Dental Chews for your dog! Entries must be received by June 30th, 3 winners will be announced on July 1st, 2014. Go here

Nutri Dent Edible Dental Chews

• Clinically Proven Better Than Brushing! In clinical tests Nutri Dent reduces bad breath and tartar build-up more than weekly brushing.
• Freshens breath and reduces plaque & tartar
• Made in the USA
• Natural with added vitamin and minerals
• No added salt, sugar, or preservatives
• Cleans Like a Brush, Tastes Like a Treat!