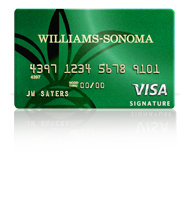 If your a Fan of William Sonoma Cooking and there

top-quality cookware,

you might want to apply for the

Williams Sonoma Visa® Signature Card

. The rewards alone are worth the application, especially since there's No Annual Fee!! I have collected a few of there Cookbooks, my favorite recipe that i make often is this shortcut version of Penne Alla Vodka, and (My Favorite) Linguine With Clam Sauce!
Checkout below all the Rewards that come with this Visa Card!
You can find out instantly if your accepted.
Go here
First purchase bonus points
: Earn 2,500 bonus points after your first purchase with the card. These points can be redeemed for a $25 gift card to Williams Sonoma.


Williams Sonoma bonus points: You can get 3 reward points for every $1 spent at Williams Sonoma, online or in store.


Other bonus points: Earn the typical 1 point for every $1 spent on purchases outside of Williams Sonoma.


Free shipping: For the first year of Reserve membership with the card, you can get free shipping for orders purchased online.


Special coupons: Get a 10% off coupon every time you spend $2,500 on your Visa Signature card.


Bridal registry rewards: You will earn 3 points for every $1 other people spend buying items from your Williams Sonoma bridal registry.
If you enjoy this store and all it has to offer, this rewards program may be ideal for you.
There is no annual fee associated with the card, so there is no risk in having it in your wallet.
The William-Sonoma Visa Credit Card can be used anywhere Visa is accepted
Go here